How to Use Our Bralette Size Chart
At NDA, we believe that every single one of us deserves to feel confident and comfy in a bra! Finding the perfect bra fit is key for both comfort and confidence. But it can feel confusing and overwhelming really fast. The good news is that it doesn't have to be!
We've put together a comprehensive Bralette Sizing Chart to make things a whole lot easier on you! Our sizing chart is designed to help you easily navigate which Elli Bralette is right for you. We've even taken it a step further and broken it down by different world sizing.
We've got some great resources to help you figure out the best size for you. Once you determine your band and cups size, you can use our Bralette Sizing Chart to find the ideal bralette size for you! Bralette sizing can vary between brands, so it's always a good idea to refer to our specific sizing chart for the best recommendation.
And as always, if you need anything at all, we're here to help! Reach out to us and we'll work with you to find the right size that's perfect for you!
Fit Note
Due to its ribbed detail, the Elli Bralette fits smaller than most. Order according to your bra size, not clothing size. For example, if you're a 34B and wear a Small top, please order our M bralette. Contact us for sizing help :)
Visual Aid: The model (pictured right), 32D, is wearing our M bralette. During this photoshoot, we discovered she's more comfortable in our L bralette.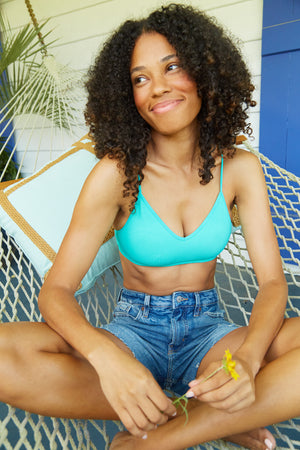 International Bra Sizing Guides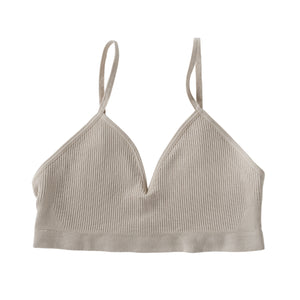 Junior, S, M
• Junior - An ideal first bra for girls, ages 8 to10
• Small - Perfect for teens and petite sizes
• Medium - best for slender frame and/or athletic build: 30C, 32C, 34B, 36A
Large
• For small band sizes, ample chest: 32E, 32D
• Medium build, natural or augmented breasts: 34C- D, 36C, 38B
Shop The Elli Bralette 2.0