A warm tone of charcoal grey that looks amazing with every skin color!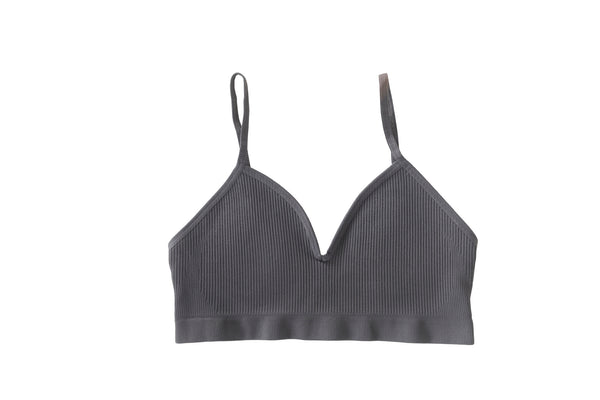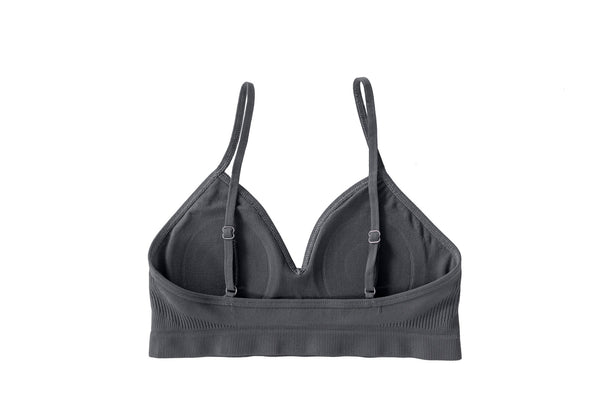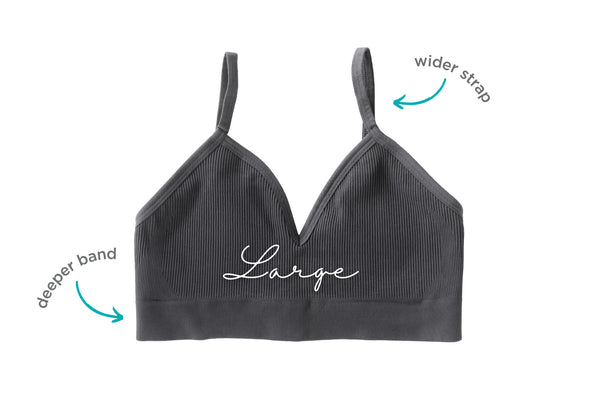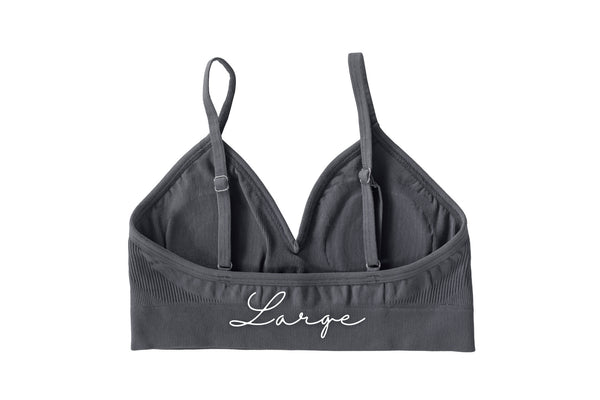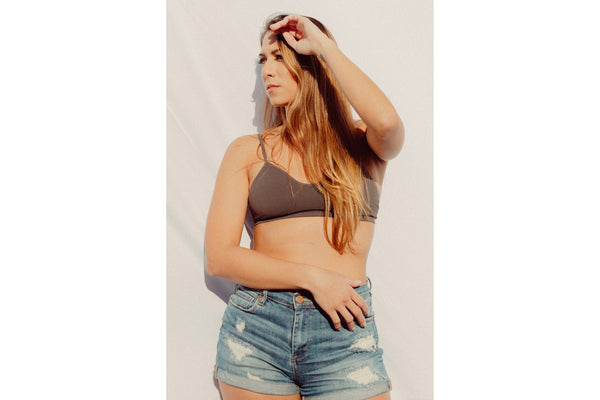 Sizing Notes
• Jr, S, M - Ideal for tweens, teens and small breasted women.
• L - See Elli 2.0

The Elli has a unique fit, please order according to your bra size. See our Size Chart.
Still have questions? Please contact us!
Materials
• 92% Nylon | 8% Spandex
• Strap Hardware: Nickel-Free, Alloy
Shipping & Returns
Care Instructions
Hand Wash and Hang to Dry is recommended method of washing the bralette.
Why?  Because repeated washing machine/dryer cycles will beat up integrity of the bra (you know this already).
•  If the bralette finds its way into the dryer, it may feel a bit tighter after tumbling in heat for 45 minutes.
About the Elli Bralette
• Seamless  
• Non-padded
• Made of soft, stretchy nylon with delicate ribbed detailing.
• Slender, adjustable straps
• Discreet, flexible, super-strong concealing petals inside the cups so you never have to worry about whether your nips are showing.
• Concealing petals are non-removable, permanently sealed in place and will never shift or get lost in the wash.
• Perfect t-shirt bra, layering piece an/or pop of color under a tank or off-the-shoulder top
• Provides gentle support
• Easily transitions from sportswear-to-streetwear-to-loungewear
• Pull it over your head and go for a no-clasp, no-wire, no-padding, worry-free everyday bra.
So comfy!
I absolutely love it and will be ordering more!
Still waiting for it to arrive
This will be my second Elli Bralette when it ever arrives. As noted in this email it was fulfilled 9 days ago and still it has not arrived from USPS. Maybe consider how these items are shipping as this really is taking far longer than it should. That said, I do find the bralette very comfortable and am also looking forward to seeing the next version when they are available.
Hi Jennifer! So frustrating when you're excited to wear your new bralette and it seems to take forever to get to you! Instead of Mid-Atlantic, apparently USPS tossed it into the West Coast pile. Your bra traveled to Utah, then to Washington, where it hung out in Seattle for a few days before heading back to the East Coast (insert head in hand emoji). USPS is a great economical method of shipping, for us and our customers, and usually provides fast service! So sorry about this shipping mishap at your expense. Thank you again for ordering a new Elli Bralette and we too are looking forward to the Elli 2.0!!
Great Bralette
This bralette is what I was looking for but could not find anywhere else. Becky was very helpful and responsive when I needed to exchange sizes. I will be purchasing more in the future!
The Best Customer Service!
My daughter loves it and Becky went out of her way to make sure we had the right size. Thank you!
Just OK
I ordered this bra because I'm starting an office job and have to hide my nipple piercings. The size guide said M/L for my size, I'm a 32D, & usually wear med or small shirts. The package came very fast and with a lovely hand-written card which I really appreciate, but the bra is way too small. It crushes my boobs down. The nipple cover inside is very hard like cardboard, and without any give. You can kind of see the circular cover through the shirt because its so hard. The bottom part that goes around your chest rolls up throughout the day. I do think it's more comfortable than a traditional bra and DOES cover my nipple piercings so I'm rating it 3 stars, but I think it's best to size up, and perhaps reconfigure the nipple covers in some way.
Dear Ashely, thank you for taking the time to leave this thoughtful review. As a small company, obsessed with our brand and most importantly, our customers., please know that if there is any issue, you can ALWAYS reach out to us first at info@ndapparel.com. This email address is a direct line to my inbox and unless I'm sleeping, I will be responding with a quickness. Ultimately, your comfort is of utmost importance and it sounds to me like our Large bralette may fit better. Due to the ribbed detailing, the Elli fits smaller than "other" bralettes and even though you're accustomed to wearing S and M shirts, the L Elli may be in order for 32Ds. It all depends on breast shape and density and as the bralette is made of stretchy nylon knit, our size guide is not an exact science. We encourage customers to order two sizes, keeping the one that fits best, returning the other. That said, our L size is currently in production. Look out for a follow up email offering our L bralette as an exchange when it becomes available next month. Love, Becky