Why Our Bralette?
With the Elli Bralette, you don't have to worry about feeling exposed.
Why Our Bralette is the Best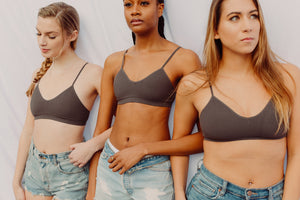 The patented Elli Bralette has concealing petals inside the cups, setting it apart from any other bralette. It features lightweight nipple coverage without padding and is the most comfortable bra you'll ever wear.
A Look Inside the Elli Bralette
During the production process, our concealing petals are permanently sealed to the inner lining of each cup. Because the petals are fixed in place, they're non removable, won't shift, bunch or get lost in the wash.
Who Wears The Elli Bralette?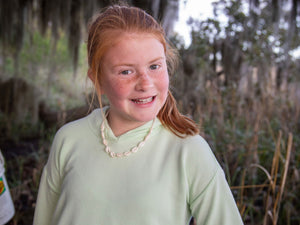 Tween Girls
Young girls wear the Elli Bralette as a starter bra! It's an ideal training bra choice because it's so comfortable, girls want to wear it as a sleep bra and so versatile, young athletes wear it as a sports bra! Plus, the Elli is so well made, it will grow with her and still be in great shape to hand down to the next little girl!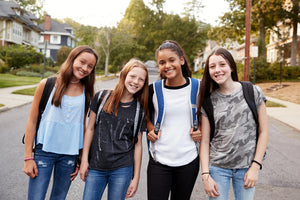 Teenage Girls
Teenage girls wear the Elli bralette for many reasons.  Due to its soft nylon stretch, sometimes they haven't yet outgrown their first bra.  And then there's our teenage customer that refuses to wear anything but her Elli Bralette! With its slender straps and sweetheart neckline, the Elli is on trend with all the other bralettes out there and with its concealing petals, teen girls know that they can wear it under any top with confidence.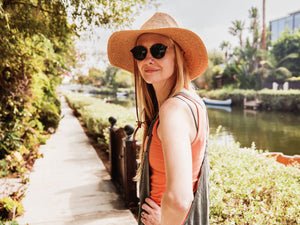 Women With Small Boobs
Women with small chests have difficulty finding a bra that fits properly.  Smaller busts don't require the heavy lifting and shaping of underwires and it's an endeavor to find a comfortable bra with decent nipple coverage and without gaping cups or bulky removable padding. Thanks to the Elli Brallete's Nylon/Spandex blend, the Elli Bralette lays flat so it feels like a second skin.  And with its discreet concealing petals, there's no added volume to distort your breast size, allowing small breasted girls to look natural.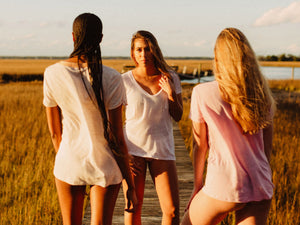 Women With Medium Sized Boobs
Women with an average bust size are tired of settling for overly padded bras to conceal their nips. The Elli Bralette saves the day here as a comfortable bra option for C cups. It accomplishes the no bra feel while hiding nipple show through without adding bulk. The majority of our customers are in this bra size category and wear their Elli over any other bra.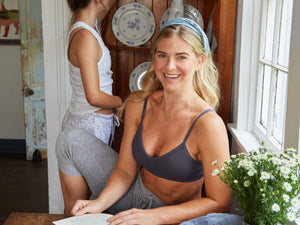 D Cups and Breast Implants
Women with naturally larger breasts prefer our Elli Bralette in size Large (wider straps and a deeper chest band) for added support. Since wire free bras are increasingly being recommended for health reasons, especially after breast augmentation or reconstruction surgery, the Elli Bralette is the perfect seamless bra choice. Women with implants love our bra because it hides their newly active nipples without being padded!
Sizing Guide
Find your perfect fit with our bralette sizing chart guide. Our sizing guide will help you determine the ideal fit for your unique comfort and style.